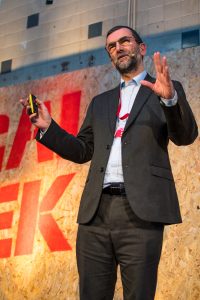 Gary is well recognised in the Blockchain / Distributed Ledger Technology arena, with particular expertise in the commercial insurance and legal sectors. He is listed in the "Top 100 Blockchain influencers" list and has presented at numerous conferences and events since 2015. A list of events is available on request.
He began his commercial career in the 1980's working in the retail industry providing operational computer support for the Littlewood's Group of companies. This gave him exposure to chainstore operations, retailing, distribution and logistics and food sales.
He then moved to the Pharmaceutical Industry where he created a greenfield Data Warehouse and Business Intelligence capability. From pharmaceuticals, he moved to the International Wine Industry where he was responsible for Data Warehousing and Analytics for the World's second largest wine manufacturer. Then on to oil trading where he was responsible for real-time BI/DW analytics for a private trading firm. From this fast paced world he moved to insurance where he became Head of Business Intelligence for a leading Lloyd's of London Insurance Syndicate before setting up his own consultancy in 2016.
He writes articles for magazines and thought leadership blogs on a number of emerging technologies, with a particular emphasis on blockchain.
With over 30 years of commercial experience in a variety of industries, including retail, pharmaceuticals, commodities trading and insurance, Gary has acknowledged expertise in Business Intelligence, Data Analytics, Business Analysis and Distributed Ledger (Blockchain) Technology. He is a Chartered IT Professional (CITP) registered with the British Computer Society (BCS).
In 2016 he was commissioned by the London Market Group (LMG) to investigate Blockchain/DLT and its potential use in the London Commercial Insurance Market and run several Proof of Concepts (PoC's). He has since provided consultancy on the impact of DLT in the Life & Pensions industry and delivers training on blockchain in Insurance, Banking, Legal and Automotive industries.
He maintains an active involvement in Blockchain / Distributed Ledger Technology through his advisory role to Blocksure, an Insurance Technology startup. He is regularly requested to provide advisory services to startups using Initial Coin Offering (ICO) to fund raise. In September 2017 he set up the ICO Meetup London group (which now has over 1600 members).
He continues to provide education, advisory and consultancy services through Distlytics Ltd, the consulting firm that he founded in 2016.
He has also made several TV appearances including on Malta-based Bloxlive and the UK ITV Good Morning Britain breakfast show.
If you would like to know more, please get in touch via the contact form below: